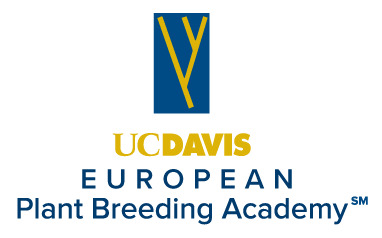 European Plant Breeding Academy - Class VII
EPBA Class VII has begun so applications are closed.
Stay tuned for information about our next EPBA class.
Building on the success of the UC Davis Plant Breeding Academy in the United States, UC Davis is partnering with European institutions and associations to offer Class VII of the European Plant Breeding Academy. This premier training program targets working professionals who desire to become fully trained plant breeders. The course totals 36 days in length--the longest course of its kind in Europe. Participants will meet for six, 6-day sessions over two years. This schedule will allow participants to maintain their current employment while enrolled in the course. All instruction will be in English.
Course goal: This course develops the skills and abilities of current industry personnel to enable them to become independent breeders or more valuable contributors to larger breeding programs.
Who should attend? The course is targeted toward personnel currently involved in plant breeding programs who lack the academic background in genetics theory and practice to advance as independent breeders. Current breeders who desire a refresher course or would like to broaden their expertise would also be potential participants.
Class locations and dates:
(While we expect to be able to hold all sessions in person, dates and session format are tentative and contingent upon global pandemic situation at that time)
EPBA VII Dates:
Year 1
October 3-8, 2022 – Enkhuizen, Netherlands
March 6-11, 2023 – Angers, France
June 19-24, 2023 – Gatersleben, Germany
Year 2
October 16-21, 2023 – Gent, Belgium
March 11-16, 2024 – Almeria, Spain
June 24-28, 2024 – Davis, CA
Applications & Tuition:
Application Process: To provide a personalized learning environment, the program is limited to 20 participants. Applicants should complete the online form and separately email a resume in order to be considered for enrollment. Applicants' background and experience will be reviewed to ensure they meet the minimal requirements before acceptance. Applicants must have a Bachelor of Science degree (or demonstrate equivalent professional experience) and have taken introductory courses in statistics and genetics. Practical experience, academic standing (GPA or equivalent) and rationale for participation in the Academy will be evaluated. Among applicants meeting the program requirements, acceptance will be on a first-come, first-served basis. Acceptance is not secured until paperwork is signed and the deposit is received.
Tuition: (All EPBA pricing is in Euros)  The cost of participating is 21,000 Euros (or 20,000 Euros if you apply before April 1, 2022 EXTENDED TO JUNE 1!), which includes all course materials and fees, along with lunches and breaks during the six sessions. Additional tours of seed research and production facilities will also be incorporated into each session. The tours are designed to balance the classroom instruction with seed and agricultural industry experiences in each of the five host countries. Travel, accommodations and other meals during in-residence sessions are not included. A non-refundable deposit of 1,000 Euros will be due within 30 days of acceptance into the Academy, and will be applied toward tuition.
An invoice requesting the balance of the first year's tuition (half of the total tuition, after the deposit is paid) will be sent minimum three months prior to the start of the course. The second tuition payment will be due prior to the start of the second year. Exact due dates will be listed on your invoice document. No refunds will be issued after a payment is made. Payment procedures will be provided to applicants following acceptance into the Academy.
EPBA Instructors & Curriculum:
The UC Davis European Plant Breeding Academy is designed to balance lectures, discussions, workshops and field trips with commercial breeders to enhance the experience across breeding systems, crops and countries.
Primary Instructors: 
Dr. Alexandra Tomerius (AIB)

Dr. Rita Mumm (University of Illinois)

Dr. Jovan Djordjevic (UC Davis)

Dr. Allen Van Deynze (UC Davis)

Dr. Kent Bradford (UC Davis)

Dr. Robert Dirks (Managerial Genetics Consulting)
Learn More About the EPBA Instructors 
Guest Instructors (partial list): 
Dr. Bruce Walsh (University of Arizona)

Dr. Roger Chetelat (UC Davis)

Dr. Charles Brummer (UC Davis)

Contribution by numerous scientists and breeders in host countries (partial list here)
Curriculum
The curriculum is being developed by instructors with input from industry leaders. The following topics will be covered during each course:
Introduction to plant breeding
Plant breeding objectives

Germplasm resources

Crop evolution

Reproductive systems
Statistics
Probabilities

Analysis of variance

Mean separations

Linear regression

Analysis of covariance

Experimental designs
Genetics
Transmission genetics

Population genetics (HW, selection, migration, mutation)

Inbreeding

Quantitative genetics model

Breeding value

Covariance among relatives

Theory of heterosis
Selection theory
Heritability

Principles of selection and the gain equation

Extension to relevant selection models
Recombination and population development
Selection limits

Effective population size

Linkage drag

Fixing favorable alleles

Polyploidy

Interspecific hybridization
Selection methods
Single trait selection: mass selection, line selection, multiple stage selection

Multiple trait selection: independent culling, tandem selection, selection indices

Indirect selection methods: theory

Linkage disequilibrium

Indirect selection methods: conventional breeding
Establishing and monitoring goals and priorities
Population improvement vs cultivar development

Minimum standards, intermediate optima, and directional response
Breeding methods
Line Breeding: bulk, pedigree, backcross

Population improvement

Inbred line development

Evaluating hybrids and combining ability
Breeding with Molecular Markers
Bases and availability of markers

Population structure

Parental selection

QTL

Bioinformatics/Databases

Marker assisted selection and backcrossing

Genomic selection
Genotype by environment interactions
GxE and decisions in population development

Genetic correlation: treatment of GxE

Selection environment: single vs multiple environments

Designs to control GxE

Variance component analysis
Breeding systems
Breeding for hybrids

Genetic control of pollination: sex expression, self-incompatibility, male sterility

Breeding cultivars

Breeding clones

Breeding populations (synthetics)
Resistance breeding
Diseases

Insects

Abiotic stress
Special topics
Mutation breeding

Biotechnology (transgenic)

Reverse breeding

Mechanization in plant breeding

Counter season nurseries

High throughput phenotyping

Data management
Finishing varieties
Cultivars vs hybrids

Protecting varieties and intellectual property

Seed certification

Seed production, biology and quality
Advanced module (optional)
Multivariate selection

Linear and mixed models

BLUPs

Advanced genomic selection

Advanced experimental designs
If you have specific questions about the curriculum covered in EPBA, please contact SBC Director of Education, Jovan Djordjevic at jdjordjevic@ucdavis.edu. 
For more information about the Plant Breeding Academy, contact Whitney Lowe at wlowe@ucdavis.edu or you can learn more about the PBA program including past classes on the Plant Breeding Academy website.