PBA VIII Completes Week 3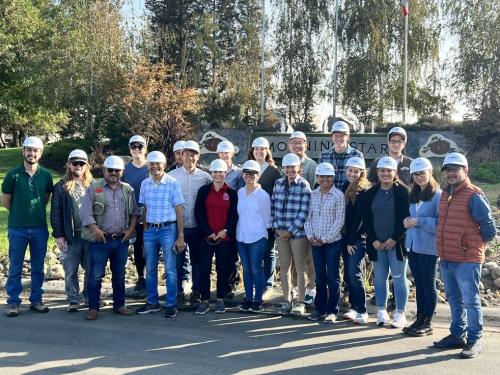 Class VIII of the Plant Breeding Academy is officially halfway through their PBA program after completing its third week in Davis. The topics covered this week were Hybrid Breeding, Heterosis, Genotyping, Heterotic groups, just to name a few. Kendra Armstrong, Jay Patel, and our Academy Director Jovan Djordjevic returned in person with the class, and they were joined by guest presenters Ken Owens and Kidist Kibret. We also had a 3-hour panel with commercial breeders Morgan Echeverry (BASF), Rakesh Kumar (Syngenta), Franco Asoro (Bayer), and Ken Owens (retired former Magnum) who together with our instructors have shared their experiences on hybrid breeding with our students. Big thanks to our panelists!
PBA VIII also enjoyed their field trip day, visiting Morning Star in Williams and their tomato fields in Woodland as well as the UC Davis Foundation Plant Services. Thank you to Niraj Raj with Morning Star and Maher Al Rwahnih with UCD FPS for their hospitality. We look forward to welcoming the class back to Davis in February!